Anti-Corrosion Coating for Fasteners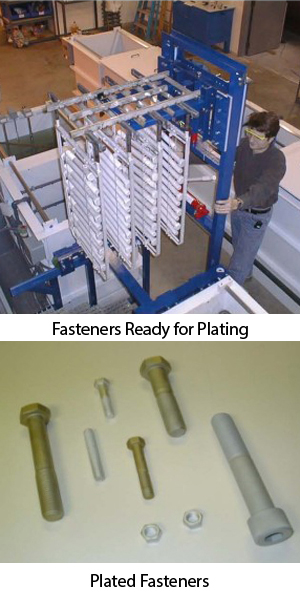 AlumiPlate's high purity electrodeposited aluminum anti-corrosion coating for fasteners provides the best corrosion protection available anywhere for critical fastener applications.
Unlike organics, AlumiPlate aluminum a provides tough, thin, uniform metallic coating that gives you superior sacrificial corrosion protection in the toughest environments.
With the addition of specifically tailored friction modifiers, AlumiPlate can engineer fastener coatings that will match any of your torque-tension requirements and will exceed your most demanding corrosion protection challenges.
If you are using NAS 4006 coatings for your aluminized fasteners, electroplated aluminum is fully compliant to this aerospace specification.
Present AlumiPlate manufacturing capacity allows rack plating at competitive small lot bulk plating prices. We have existing capacity to process significant volumes of fasteners with a plan to transition processing to bulk plating at other facilities as they come on-line.
Give us a call to discuss your fastener coating requirements, we are experts at engineering optimum performance solutions for difficult fastener applications.
Contact us for more information on corrosion resistant fastener coatings or to discuss your application in more detail.